Posts Tagged 'Fur Trade'
A big hello to all BC Schools, Principals, Teachers, PACs, Event Coordinators, and Students,
Yay! The summer is here!
I would like to thank all those who I was invited Myself and the Mobile Museum to present during this past year at all the public and private BC Schools.
I would also like to thank all the Principals, PACs and everyone else that made 2017-18 school year a very busy one for myself and the BC Mobile Museum Tours.
What an amazing year it was presenting at events during "Cultural days" at Langley Centennial Museum, "Collingwood Days"  in Vancouver and to students and staff in over 50 different public and private schools throughout the Lower Mainland including areas as far away as Lytton, Lillooet and Salmon Arm.
I am also looking forward to presenting once again in 2018-19 with tours currently being booked throughout the lower mainland and other BC communities.
There are many dates remaining available but I recommend that you book your event or school presentation date(s) early to ensure your preferred month and time.
Contact me directly at 778-386-3110 or visit the www.Mobilemuseum.ca website for more information, pricing and booking availability.
Tony Hardie/BC History Presenter
"Honoured to be presenting the BC Mobile Museum on the Traditional Territory of the Katzie, Kwantlen, Kwikwetlem, Musqueam, Nlaka'pamux, Qayqayt, Secwepemc, Squamish, Semiahmoo, St'at'mic, Stó:lō, Tsawwassen, & Tsleil-Wauthuth Nations"
Phone: 778-386-3110
E-MAIL- tours@mobilemuseum.ca
Feb 08
Hands On The Past…
February and March bookings dates are now Full!
April and May Museum Tour dates are filling up!
The BC Artifacts Mobile Museum Tours consists of an extensive collection of authentic First Nations, Pioneer, Fur Trade, and BC Gold Rush artifact displays as well as a very engaging and informative Power Point presentation. Presented by Tony Hardie descendant of early British Columbia Pioneers and the Secwepemc(Shuswap) First Nation.
The BC Artifacts Mobile Museum is currently presenting at BC public and private schools, community events and more!
Don't Miss out! Book your tour Today!
Tony Hardie/BC History Presenter
"Honoured to be presenting my story on the Traditional Territory of the Katzie, Kwantlen, Kwikwetlem, Musqueam, Nlaka'pamux, Qayqayt, Secwepemc, Squamish, Semiahmoo, Stó:lō, St'át'imc, Tsawwassen, & Tsleil-Wauthuth Nations"
 Phone: 604-501-1768 or Cell at 778-386-3110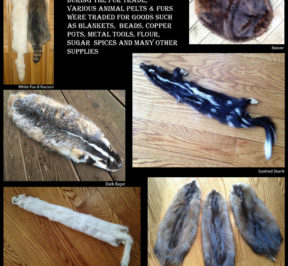 Feb 25
NEW! Coming Soon! I am adding to the Fur Trade displays this spring Just acquired several animal furs and pelts that will enhance the Fur Trade display tables area after spring break. Special thanks goes to my friend Ken for his contributions to the Museum. #HandsOn #MobileMuseum #BCEducation #FurTrade